Infrascale Server Backup

Protect All Business Data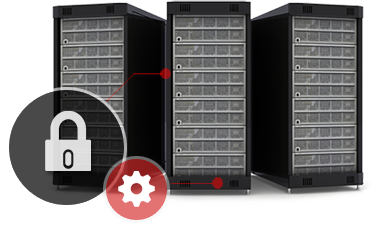 Overview:

Flexible Backup for your Diverse Environment
Infrascale Server Backup provides protection for data on any server, both physical and virtual. Backup SQL, Exchange, SharePoint, VMware, Linux, Unix, and Windows environments. All part of the comprehensive Infrascale Platform:
Backup any file or folder
Access and share files anywhere
Encrypt files and folders for all backups
Restore data onto any device
---

UltraSafe™ Secure & Encrypted Backup
Infrascale uses a military-grade encryption process. This means your files are encrypted three times during the three stages of a cloud backup.
Files backed up by Infrascale go through the following three-tiered encryption process:
Local encryption
Encrypted in transit during upload
Encrypted at rest in the data center
This encryption method is the same as that used by the US military. Even data that is backed up on a local device with Infrascale is encrypted. Infrascale also enables compliance with many government regulations, allowing it to be used in a variety of industries.
---

Super Fast Backup
Infrascale uses an on-the-fly encryption method that ensures our backups are among the fastest in the world. We understand that backups need to get to the cloud quickly and safely.
Infrascale typically backs up 1GB every 15 minutes (based on your Internet service provider or bandwidth).
Infrascale allows you to throttle online backups, only if you want to.
The Infrascale speed test found that Infrascale is 2x faster than other data protection providers.
---

ForeverSave™
ForeverSave™ automatically and infinitely archives your files and does not limit which backups are accessible for recovery. All protected data will be available, forever.
Because Infrascale is designed to protect your data forever, we allow you to recover it at any time. The Infrascale Backup Timeline Recovery calendar allows you to select a date in the past from which to recover data, based on when the backup was performed. All data will be instantly recoverable from that specific date.
ForeverSave™ unlimited archiving applies to any file in your organization.
Applicable for an unlimited number of files
Files from fileservers
Any file type
---

Continuous Data Protection
With Continuous Data Protection, Infrascale is always on the lookout for changes in files. Infrascale will detect the change and make sure your updated file is sent to the secure cloud whether you select it for backup or not.
Restore any versions of files backed up with continuous data protection
Modify any file and Infrascale will instantly back it up
The latest version of your file will always be available.
---

Enterprise Compression
Industrial Strength Cloud Backup
After your initial backup, Infrascale's intelligent compression system protects only the files changed, minimizing the need to transfer data already stored. On a 500MB database, the daily transfer can be as small as 5KB. Our transfer system is enterprise-grade, meaning that large file transfers are resumed at the KB of interruption and not at the beginning like many other cloud backup systems. The Infrasclae Platform truly provides industrial strength data protection.
---

Flexible Selection & Scheduling
Protect what you want, when you want
Infrascale delivers the flexibility to protect any file type. But you may want to limit, include, or exclude certain file types for different backups. Our File Selection Wizard enables you to control what you protect, and when you want to back it up.
Scheduling is just as flexible and manageable. Schedule hourly, daily, weekly, or monthly backups. Choose the files, folders, servers and workstations that need to be backed up for these respective sessions. Instead of running constantly, taking up valuable CPU and RAM resources like other cloud backup systems, Infrascale runs when you schedule it and when a file change is detected.
---

Centralized Management
The Infrascale Platform delivers centralized management functions including remote deployment, reporting, and monitoring. With our Dashboard, you are in control with access to:
Remote management
Report scheduling and access
Sub-account provisioning
Server license provisioning
GB usage
Username and password creation for sub-accounts
---

Mobile Access
The My Account portal can be accessed with any browser and enables you to share any of your protected files securely. Infrascale for Android and iPhone applications can help you securely share, access, and download backed up files too.
Share files instead of sending large, unsecure files via email
Select and send as many files as you need, at any time
Share any file type, up to 500MB file size limit
Infrascale allows you to share and send any of the files you've protected – all you need is an email address or Facebook account to send it to.
Server Backup:
Your mission critical business information is stored on your company's servers. Protect that data with Infrascale Server Backup.
Infrascale delivers an affordable, enterprise-grade solution for backing up your most critical business information. Backup to military-grade data centers, protect your data with award-winning online backup software and manage it all with an integrated centralized management platform. Infrascale ensures your corporate data is always protected.
Complete Server Backup: Integrated SQL and Exchange backup
Bare Metal backup and recovery: Low RTO bare metal image backups for Windows-based servers
Monitor server backups in the Central Management Dashboard
Windows Servers
Backup windows servers 2003, 2008, SBS 2003, SBS 2008
Backup full server (all volumes), selected volumes, or the system state
Recover volumes, folders, files, certain apps, or system state
Restore complete system using full server backup



SQL & SharePoint Servers
Native backup for SQL 2008, 2008 R2 and 2012
Full backup and restore with granular recovery
Backup will be secure from unauthorized access
Support for SharePoint 2008 and 2010



Exchange Server Backup
Support for Microsoft Exchange Server versions 2000, 2003, 2007, and 2010
Full Exchange backup with options for backup policies and schedules
Recover full servers or just down to the message level
Complete security with unique three-tiered encryption system
Integrated Exchange 2010 backup is available with every Infrascale Partner Program. Backup and recover an unlimited number of Exchange servers.


Exchange Granular Recovery
Perform granular mailbox recovery on Infrascale .edb backups
Perform granular mailbox recovery on bare metal images of Exchange servers
Recover lost or deleted files quickly
Exchange Granular Recovery allows recovery of individual mailboxes, email messages, or entire Exchange databases.
VMware Backup:
Over 50% of business server workloads are now virtualized, and within 18 months this will grow to a staggering 86%. But why allow for wasted time and money spent as your number of VMs multiply? Infrascale offers a powerful new VMware Backup solution that enables our channel partners to quickly and easily protect data in complex VMware environments. Infrascale offers vSphere and vCenter integration as well as de-deduplication for highly efficient backups. Manage it all from a single unified dashboard, at a compelling price that allows for high margin opportunity
Backup any number of virtual machines simultaneously with host-level, agent-less technology
Restore to any VM host if source VM host is offline
Onsite backup for fast recovery and cloud replication for disaster recovery
One Dashboard to backup virtual environments, physical servers and endpoints


Save Time
An agent-based VMware backup approach becomes time consuming and costly. The installation, configuration, scheduling, backup, and reporting time multiplies as virtual machines are added to the environment. Any modifications must be done manually along with any virtual machines that move between host environments. Save time with a host-based approach that completely eliminates these issues.
Install, schedule, run and report on one backup module across all VMs on all VSphere hosts
Apply backup policies across all VMs simultaneously
Automatically detect new and migrated VMs


Save Money
Why spend hours on a restore that should be done in minutes or even seconds? Don't leave your customers' vulnerable to costly downtime and unneeded expense. Infrascale VMware Backup allows for massive quantities of data to be protected quickly, de-dupulicated, and sent to the cloud securely.
One fee for each host, good for all VMs on that host
Use CBT to skip unused sections of VMDKs and do differential and incremental backups of VMs to reduce on-premise storage costs
Track migrating VMs to eliminate unnecessary full backups


Reduce Risk
A host-level approach means that you don't have to install an agent on each virtual machine individually. The Infrascale VMware Backup module offers a one-step restoration process that restores files quickly and minimizes the risks of downtime. You set your own margin in reselling to your end customers with our completely turn-key solution.
Auto-detect new VMs and include in backups
Auto-track migrating VMs, backups uninterrupted
1-step restore in minutes, business continuity ensured
Look inside virtual disks, restore individual files/folders quickly


Key Features and Functions
Provides full backup of virtual machines – operating systems, applications and data – with version history so you can roll back to any previous backup date you choose
Comprehensive support for all major guest operating systems
Backup capability functions effectively from single VMware hosts up to large vCenter environments
Agentless "host level" backup so you can protect virtual machines without requiring any software to be installed on the individual VMs. Options for backup/restore of entire virtual machine images or specific files and folders
Automatic active-passive replication where the VMware Backup module keeps a backup set onsite and replicates that backed up data to the Infrascale cloud
Enterprise-grade performance with high sustained backup/restore speeds
Patented data de-duplication with up to 10X reduction in data size further reduces the backed up data size for highly efficient backups
Full integration into the Infrascale dashboard makes VMware backup simple to manage
Set-and-forget backup policies that apply globally to all protected environments
Can mix with agent-based backup of ESXi free version and virtual machines with Raw Device Mapping enabled
Automatically track and protect newly created and / or migrated VMs
Leverages VMware's APIs for Data Protection (vADP) to track and backup only changed blocks (CBT) rather than entire files every time, skip unused sections of VMDKs and allow differential and incremental backups
Host-level licensing means no per-socket pricing
Download the Infrascale VMware Backup Data Sheet (PDF).
Bare Metal Backup:
Bare Metal image backups are one way to protect your entire server environment, including the operating system. Protect your business servers and ensure you can recover quickly, even with dissimilar hardware.
Infrascale can include Bare Metal image backup that enables you to thoroughly backup your Exchange, SQL, SharePoint and Windows servers with Bare Metal. Manage it all in your Centralized Management Dashboard.
Bare metal backup is available for all our partners. Bare metal backups protect all pieces of a server, including its operating system. Bare metal backup delivers a low RTO (Recovery Time Objective), which gets your customers back up and running quickly in the event of a disaster.
Bare metal backup is available for:
Exchange Server 2000, 2003, 2007, 2010, and 2013
SQL Server 2005, 2008, 2008 R2, and 2012
SharePoint Server 2007 and 2010
Windows Server 2003, 2008 and 2012
Recovery to a virtual or physical machine
Bare metal backup features:
Backup your entire disk drive, including systems, applications, services, configurations, settings, and data
Save backups to any disk device or any optical media
Test backup images to ensure their integrity
Schedule backups to occur automatically
Schedule regular incremental backups to occur as often as necessary

Recover individual files and folders with low RTO and RPO, as scheduled
Restore a system to different hardware or to virtual environments
Quickly boot a backup image as a virtual machine
Schedule regular incremental backups to occur as often as necessary
Migrate a backup image from and to physical and virtual environments

Transactionally Consistent Bare Metal Backups
Bare Metal backup technology provided by the Infrascale Platform is transactionally consistent. Transactionally consistent Bare Metal backup software "talks" to the server to ensure that it is done transferring data. Only then will it take a Bare Metal image.
Exchange Granular Recovery with Bare Metal Images
Exchange Granular Recovery allows you to perform granular mailbox recovery on exchange backups and recover lost or deleted files quickly. Integrated E-discovery technology lets you search and preview – not commonly seen in typical EGR solutions – but available with Infrascale. Recover at the database, mailbox, or message level with Exchange Granular Recovery.
After you start your Infrascale partnership, you'll be able to add Bare Metal image licenses and EGR licenses as needed.
Exchange Granular Recovery features:
Use keywords to search mailboxes, email messages, or entire Exchange databases
Recover Exchange emails, email attachments, address book contacts, mailboxes, and more to your production Exchange server or to a .pst file
Operating Systems supported include Windows Server 2008 R2, 2012, 2012 R2
UltraSafe Security:
Infrascale is committed to the highest level of security available, from your device to our data centers. We offer our UltraSafe™ three-tiered encryption process that delivers the highest level of backup data security available. And our primary data facilities are tier three and tier four grade security, which is U.S. military grade. The target reliability of each of these data centers is 99.9 -99.99% .
PRISM-Proof Data Encryption
Infrascale offers the most extensive NSA PRISM-proof military grade backup security. We call this three-tiered encryption process UltraSafe™.
With Infrascale, your data is:
Locally encrypted
Encrypted in transit during upload
Encrypted at rest in the data center
No one has access to your data but you. Not even us. This encryption method is the same as that used by the US military. Even data that is backed up on a local device with Infrascale is encrypted.
Military Grade Data Centers
Infrascale's commitment to security extends to our data centers. Our primary facilities are tier III and IV facilities, and employ U.S. military-grade security.
Our data centers feature:
Security with biometric credential requirements
Fire suppression systems
24/7 online monitoring
Temperature and humidity control
We've Got You Covered: Worldwide Data Center Infrastructure
Infrascale utilizes 15 global points of presence and operates out of several worldwide locations:
12 global data centers, including United States, Canada, United Kingdom, Australia, and South Africa
These data centers are ISO9001 and ISO27001 certified
Offices within the US, UK, Australia, Greece, Ukraine and India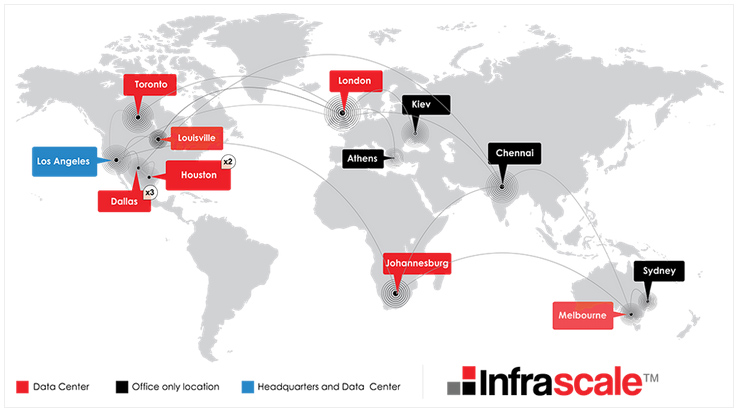 Compliance
Infrascale meets the backup needs of the most demanding client verticals. Our robust security features meet the stringent compliance needs of financial services, healthcare, legal, retail industries, and more.
Our security enables partners to meet or exceed the following regulations:
HIPAA
GLBA
EU US Safe Harbor
SAS 70 Type II (Sarbanes-Oxley)
PCI (Payment Card Industry)
Centralized Management: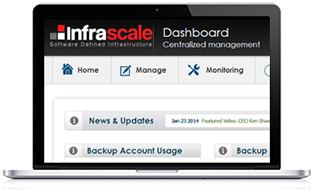 Infrascale delivers a Centralized Management Dashboard to keep you in control. Management functions include remote deployment, reporting, and monitoring.
Using the Dashboard to manage backups in your business is simple. From this single page, you'll have access to the following tools:
Remote management
Report scheduling and access
Sub-account provisioning
Server license provisioning
GB usage
Username and password creation for sub-accounts
Remote Management and Control
Manage and control multiple locations and devices, all easily managed from our Centralized Management Dashboard. As a Managed Service Provider, you are likely in charge of data protection and business continuity for multiple customers. Manage backups for your entire service business from a single location.
Remote deployment: Use our MSI to deploy backups across many networks, no matter where the offices, workstations, and servers are located.
Remote monitoring: Our Dashboard allows you to monitor your customer's backups from any web browser and any internet connection. View backup events behind any firewall (or no firewall at all).
Remote account creation: Our Dashboard will enable you to create data protection accounts for existing customers, new customers, and new devices. Infrascale allows companies to create an unlimited number of cloud backup accounts.
Backup and Account Reporting
Access backup and account reporting for all of the customer accounts in your business. After deploying cloud backup accounts remotely, you will always have access to backup reporting by account.
Report by account: Our Dashboard gives access to backup reporting by account across an entire network. View successes, failures, time and date the backup occurred, as well as the number and size of files that have been backed up.
Email reports:  Schedule backup reports for your entire business to be emailed to you at a specified email address.